Shure GLXD24/Beta87A
The Shure GLXD4 system with Beta 87A is perfect for singers who want a tighter tone. Despite living in the shadow of the legendary Beta 58, the Beta 87A might be just the mic capsule you need. It features a tailored frequency response, while the rolled off low-end compensates for the proximity effect. The result? A really natural tone that isn't boomy. This makes it perfect for male singers with low voices, or even female singers that require a very natural tone.
The GLX24's intelligent frequency management can move to a frequency with better reception mid performance – with no interruption to the signal at all! The GLXD24 System also uses cutting edge digital 2.4GHz wireless technology and is completely licence-free!
Wireless System
Beta Vocal Series
Digital 2,4 GHz with Beta87A Handheld transmitter
Up to 8 systems simultaneously
Automatic frequency setup
Pilot tone
Microprocessor-controlled internal antenna diversity
Battery status displayed in hours and minutes
Remote adjustable transmitter gain control
Internal battery charger
Plastic hand-held transmitter with condenser, Beta87A microphone capsule , 20-20000 Hz, Supercardioid
Plastic receiver
Fixed antennas on the front
XLR- and Jack outputs
High-resolution LCD screen status display
Up to 16 hours of battery life
Up to 60 meters operating distance
Delivery includes: Shure lithium-ion battery and charger set
Beta 87A Capsule
This precision engineered microphone is built for pro's and enthusiasts alike. With a supercardioid polar pattern, your voice will be effectively isolated; this is especially useful, as it'll stop bleed from other vocalists and instruments while you perform on stage. A buttery smooth, tailored response ensures your voice is delivered warmly and accurately.
GLX-D2 Transmitter
Setup is made simple, as your transmitter should automatically link with your wireless receiver. With up to 16 hours of continual use and a rock-solid 60m operating range, you'll be able to confidently command the stage.
GLX-D4 Receiver
Automatic frequency management selects the best open channels quickly, ensuring you have the best available possible signal.
Set Includes
Beta 87A Capsule
GLXD2 Handheld Transmitter
GLXD4 Receiver
Shure GLXD24 with Beta 87A Digital Wireless Vocal System Video Reviews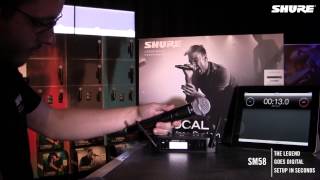 Price £542
contact us for a quote or need any more details on this product